Costco | Prairie Lakes

Costco Address:
2850 Hoepker Rd
Sun Prairie, WI 53590
Costco Phone number: (608) 825-4001
Costco Hours:
M-F 10-8:30
Sat 9:30-6
Sun 10-5
Note: Holiday hours vary.
Call the store to check on the open times.
Closed Easter Sunday

Here is a link to a website that might be helpful. They will help you track pricing changes on products you purchase at Costco.

Here is a site that explains pricing codes at Costco.

Be careful of the Costco Gas Nazi: "No Squeege for you!!!"

COSTCO'S RISK FREE 100% SATISFACTION GUARANTEE
Membership:
"We will refund your membership fee in full at any time if you are dissatisfied."
Merchandise:
"We guarantee your satisfaction on every product we sell with a full refund. The following must be returned within 90 days of purchase for a refund: televisions, projectors, computers, cameras, camcorders, touchscreen tablets, MP3 players and cellular phones."
What to expect at Costco Sun Prairie
---
11/23/14
Question:
On 11/15/14 we purchased 4 of the Stakmore Folding Chairs at the cost of $29.99 each. On our way out a flyer was given to us called 'pre-holiday Savings Event'. In the book these same chairs were shown as $5.00 off. Today we took our receipt to the service desk and asked if we could get a price adjustment. The gal at the counter told us that they do not do any price changes on these flyers. We were very disappointed when we walked out. I did check the flyer and no where does it state no price adjustments that I could see. I don't know if anything can be done regarding this matter. If you need our member number, it is ##########.
Thanks,
Dave and Dolores
Answer:
Here is what you should do:
Take your receipt and the chairs in to the returns desk. Tell them that you are returning the chairs because they have them on sale and you bought at regular price. They have to take the return or give you the difference in price. If they are stupid enough to not give you the difference, let them have the used chairs to now have to dispose of and go get your new chairs at the sale price.
This has happened to me as well.
They want to play word games so just play the game with their rules.
Screw them.
Regards,
Ed
PS: How do you like those chairs? I was looking at them trying to decide. They seem nice but take up more space than regular folding chairs.
Reply:
We were thinking of doing that but didn't want to go through the hassle.
Still ticks us off! Unfortunately if we didn't like the chairs so much I
think I would do this. We had received two chairs this style for Christmas
quite a few years ago and really liked them. I guess we will have to just
'eat' the $20.00 that we would have saved or reimbursed.
Regards,
Dolores
Reply:
That is why they do it this way: because you and others are willing to EAT the cost rather than challenge them and make THEM eat the cost. They win and everybody else loses.
Stand up for everyone else and make them do the right thing. Other people may not have as much money as you do.
Regards,
Ed
---
11/129/13
The Magic Words For Getting A Price Match Adjustment At Costco
Just got back from a very unpleasant experience at Costco. Two weeks ago, I had purchased a "Sherpa" lined zipper sweatshirt. My wife saw it and she wanted one too. I went back a couple days later and they were all gone. Couldn't believe they sold out that quick. Then, a few days ago, I saw the brochure for the Black Friday sale. It was in there for $4 off and is going to be $16 for three days. As soon as they found out it would be on sale, they must have pulled all their stock off the floor so people would not be doing a bunch of returns.
So, I took my receipt in for the $20 Sherpa sweatshirt and went to the service counter. The girl asks me if I wanted to do a return and I said no, that I just wanted a price match adjustment. She then proceeds to tell me that they will not do price matching for Black Friday sales. I told her that did not seem right. She said I could talk to a manager and I said I wanted to do that. Manager says that it is their policy to not do price matching on the Black Friday sales. I said that I thought it was ridiculous that they would want to tick off so many customers that thought that they had a perfect right to do a price match on sale goods, no matter which day of the week it was. She said that was the policy. I said that I could easily return the now "used" item and walk back and purchase a "new" item at the sale price. She said, that in that case, she would give me a price match on the item. As she is having one of her minions do the price match refund, I say to her: "I still think that your 'policy' is completely unfair and what about all the other people that expect you to stand by your price match policy and do not say: "Well then, I will just return the item that costs more and go back and buy the lesser priced item? Are you comfortable ticking these people off?" All she said was that is their policy. Policy obviously from the celestial Costco headquarters. I said that, if I and everyone else simply brought back our more expensive items for return, they would take them back and she agreed. I then said that, then they would have to dispose of all these used returned items and they would lose the whole purchase on those items and the customers would still get the lesser price items and she agreed. I said it didn't make sense that they would have a policy where they would lose money in the process. She did not answer me. I hope some of the 20 or so people, behind me at the returns counter, heard that dialog.
Just plain stupid policy. That is what you get when you have stupid people in positions where decisions are made.
Oh, the magic words are: "Well then I will just return my used item and buy a marked down item."
By the way, the Sherpa lined sweat shirt is great at $16 or $20!
---
3/4/2013
I bought a new TV at Costco a couple weeks ago. Nice TV.
I live close by so I go there quite often. I kept checking the price of the TV to see if it would go down. Today I checked and the price had dropped $150. I rushed home and got my receipt and went right back to get my refund. At the service counter, they looked up the new price and then told me that this was a floor model, last of the TVs of this model. I said that it was not marked like that; the price was just marked down at a lower price than what I had paid. They called the assistant manager and he looked it up again and said the same thing. I asked if any more were coming in and he checked and no more were coming. Okay. I don't want a floor model but don't you admit that the TV should have been marked clearly that the price was for a floor model only because I would not have driven home to get the receipt and come back again? He went and checked the display and came back and gave me the $150 off.

I can't say enough good things about the service at Costco. They do seem to do whatever they can to make the customers happy. Got another Rotisserie Chicken today and it was done perfectly.
---
1/15/2013
Just for your information: Costco in Sun Prairie, WI, was closed on Christmas Day and New Year's Day in 2012. They also had different from normal hours on Christmas Eve and New Year's Eve. Check your local store for hours.
Jeeezzzz... I got two Rotisserie Chickens a couple of weeks ago and they were both BLOODY, when I got home and we were going to eat. Not DONE at all. Easy to fix in the microwave but what if you are somewhere that you don't have some kind of oven or microwave? Do you eat the under cooked chicken or not? Great price of $4.99 each, if they are done correctly.
Pistachio peanuts were 3 pounds for $14.99 towards the end of December 2012. That is $5 per pound.
On 12/17/12 The beef hot dogs that they sell at their "restaurant" for $1.49 with a soda and free refill, were $3.97 for a dozen (367352) back in the cooler area, minus the bun and soda. These are the best hot dogs. They do not make me sick as hot dogs usually do. Apparently this was a sale because on 12/03/12 my son bought (367352) some for $9.99. Not sure about the amount he got, but I hope it was three times as much. I don't think so.
---
12/26/2012
Don't count on any "After Christmas Sale" at Costco. I had my eye on a $65 LED light set for two months and figured I would pick it up much cheaper after Christmas. I checked on it late on December 24th and the price had not budged. They were closed on Christmas Day. Went in today and all the aisles with Christmas decorations and Christmas Toys were gone completely. Replaced with mattresses and other stuff. They never had a sale on Christmas items. Shipped them off to where? Odd Lots?
---
11/16/2012
On Nov. 14th, 2012, Costco held a Special two hour opening where they did not sell anything; they just gave away free samples of their food. The store was packed with local people coming in to see what the store looked like and sampling the food. They had a lot of samplers giving out the free samples but they also had their whole food bar open and giving out free samples of their all beef hot dogs and the spicier polish hot dogs. They also had free pizza and some chicken sandwich and in the back, by the meat department, they were giving away samples of their chicken and even salads. There was also a large table laid out with all kinds of free bakery items. Some really good stuff. Costco did not cheap-out on their free stuff. They did a good job and they sold me on their deli/restaurant hot dogs. $1.49 for a large hot dog and a free, refillable, soft drink.
On Thursday, for their opening, they opened at 8am and the parking lot was packed all day long. I went to the Copps Food Market, about one mile away, to use the Turkey discount coupon, and their parking log had about ten cars in it. I'll bet they wondered where all the people were.
On Friday I went back to take my son with me to show him and buy some things. It was still packed with people. Hard to find a parking place.
Talked to an employee in the liquor department and he was very knowledgeable of his products. He said that the brand name Vodka that cost $55 a bottle came out of the same tap as their store brand, Kirkland, and the Kirkland vodka was half the price. It did taste very smooth. The liquor department is very small compared to the Woodman's Liquor but you can still get some good deals there. No, they were not giving free samples of the Vodka.
---
10/28/2012
The Costco Gas Station is now open. Their hours are not limited to when the Costco store is open but you are not going to get gas 24 hours a day, but I don't think the neighbors will complain about that.
Prices are competitive but I don't see a reason to come here unless you are already in the neighborhood. You also need a Costco membership to get gas here. Woodman's is also such a pain because of their cash only policy and even if you have a debit card, you have to go inside to pay first.
Looks like Costco is sticking to their November 15th opening even though the store was virtually complete a month before that. They must rake in a lot of cash to be able to stay closed and lose money like that.
| | | | |
| --- | --- | --- | --- |
| Date | Costco Regular Gas | Woodman's Regular Gas | Kwik Trip Regular Gas |
| 10/28/2012 | $3.359 | $3.359 | $3.379 |
| | | | |
| | | | |
---
9/14/2012
Just dropping you a line since I haven't seen any updates on it lately; thankfully I live pretty much next door so I've been watching the construction with much anticipation.

The Costco building is pretty much done now. They got the final signage done, doors are on, and it looks like it's down to finishing touches.

Landscaping is done, but the parking lot lights haven't been put up yet as of this morning. I did see through the open doors that the interior build has been progressing, walls and painted-on-wall signage (I believe for the optical area) were visible.

The gas station is close as well. The tanks are in, the lines run to the stations and the islands are all set. They just need the pumps themselves, the stone dressing around the metal columns for the awning, and then the final paving.
-
In addition there has been a fair amount of site prep work across the street in the Prairie Commons area. It doesn't seem to match where I was expecting the new building to be built. They seem to be doing prep work on the Hoepker side and not on the Grand Avenue side.

Not sure if they're going to do /all/ of the core prep work for the parking lots of the whole commerce park, or what.
- Greg
I also saw some Help Wanted signs at the Costco Store, if anyone is looking for a job.
---
6/26/2012



---
6/21/2012
Costco was given approval by the Sun Prairie City Council's Committee of the Whole to allow concrete pouring at night from 9 p.m. and end about 6 a.m. There will be no other work other than the concrete pouring. Apparently the very warm weather is not conducive to working with the concrete and the night time temperatures will help. This will start on June 25th but might not take too many nights to do, unless you live close by and are trying to sleep. In that case, it will be an eternity.
---
Looking between two dirt piles, towards the Target store. You can see the "West wall" of the Costco building starting to go up.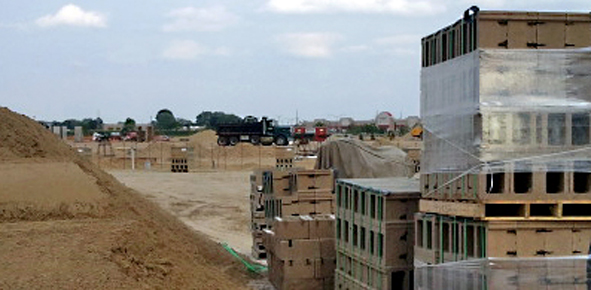 There is an incredibly deep "holding pond' or something like that to the West and North of the building. Maybe this is one of the "Prairie Lakes" that the shopping center is named after. I think Beaver Dam Lake is only about six feet deep. This looks like this is at least twice that.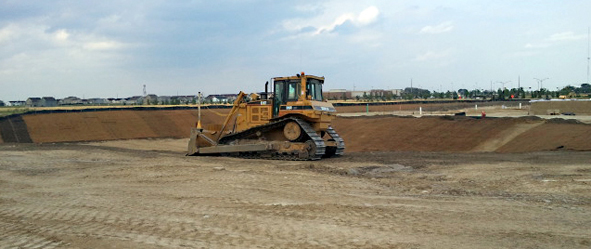 Looking East. Looks like the West and South walls of Costco, going up..

This picture was taken from the Triumph Avenue exit / entrance, looking North.

---
5/10/2012
Costco has earth moving equipment on their property so it looks like they will be starting construction soon. In the photo, below, you can barely see the equipment with the Target store in the background and the open field in the foreground.

---
4/18/2012
Costco should start "moving dirt" in early May 2012. Opening date is set for October 13th. (I'll bet that is flexible.) Hard to believe what we have looked at as vacant land and farm land being turned into a store and Prairie Lakes Shopping Center but this has been coming for the last eight years. Just a matter of time. Don't know if it will be good or bad for the Providence neighborhood. Hoping for good.
---
2/18/12 We had never been to a Costco Store before, so, since our membership at Sam's Club is running out next month and a new Costco is being build a short way away from our home, we decided to check out the Costco on the West Side of Madison, Wisconsin, not far from Sam's Club on the West side. First we shopped at Sam's since they open up early and Costco doesn't open until 10 am. Quite late, really. But, I guess, if they are in my neighborhood, that is better than early. We got there shortly after 10 am and the parking lot was maybe half full. When we came out about 30 minutes later, the parking lot was almost full.
Gas prices were a full ten cents cheaper than what you can get without a membership somewhere else. That is pretty good, although we are not back in the 60's where ten cents would have made a difference. Now, when you are paying $3.50 per gallon, what good is saving 10 cents a gallon? Not much.
Went inside and you can look around without being a member but they catch you at the door and tell you to go to the "desk" and register as a visitor. I saw a lot of people walking out without anything in a bag so maybe they were "shoppers" or visitors like us.
Since we had just stocked up at Sam's Club, we had receipts with us to compare prices. Overall, everything compared favorably. Butter was $7.69 for 4 pounds at Costco and the same at Sam's. Same thing is gong for about $10 for 4 pounds at Copps in Sun Prairie. Marie Calendar Chicken Pies, 9 oz. each were, 8 pack, were $10.35 for Sam's and Costco. Reynolds Wrap Heavy Duty 2 rolls, 150 sq. ft. was $12.19 at Costco and $12.20 at Sam's. Shredded Mozzarella part skim Cheese, 5 pounds, was $10.45 at Costco and $10.66 at Sam's. Canola oil, 5 qt., was $8.29 at Costco and $9.88 at SAM's. Tide powder, Original, 254 oz. was $29.99 at Costco. The 225 oz at Sam's was $26.98. Why the two different sizes at two different stores? Just to confuse the customer and make comparisons difficult, no doubt. So Tide was $00.1181 per ounce at Costco and $00.1199 per ounce at Sam's Club. House brand toilet paper is difficult to compare. At Costco you get a package of 2 ply, 425 sheets per roll, 30 roll package for $14.99 per package. that is $.001175 per sheet. At Sam's Club you get 2 ply, 36 rolls, 220 sheets per roll for $16.83 per package. Comes to $.002125 per sheet. How the sheets perform is the question.
Overall impression of Costco was that there is no reason to go all the way to the other side of Madison to get to a Sam's Club store. Prices are comparable. Credit cards have to be Costco or American Express. You need a Costco card in order to use their gas station. You can purchase from their Pharmacy without a membership card but that is all. At present, membership costs $55 for a regular or a business membership. I always liked where business members got in early at Sam's Club. The tire service absolutely went down hill at SAM's in the last year or so. I had purchased new tires there about two years ago. They were back ordered for about three months but I could wait. Then I would get rotation and re-balancing every six months. I went for re-balancing about 6 months after purchase and I was the first customer in that department. First in line after waiting for the service people to get in 15 minutes late. Then they took another two hours to take the tires off, re-balance them and then remount them. Given this poor service, I would recommend that NOBODY purchase tires from Sam's Club. I can only hope that Costco is more customer oriented.
One nice thing about Costco is that you can return anything, no questions asked. Try to do that at Office Depot. Ha!
---
1/15/2012
Costco is scheduled to start construction in April 2012 with opening in Fall of 2012
---
Costco | Prairie Lakes Property Layout Map
12/7/11 The proposed Costco Discount Store in the Prairie lakes Shopping Center received conditional approval from the Sun Prairie City Council. Costco will need to submit plan revisions and get permits before the project can be started.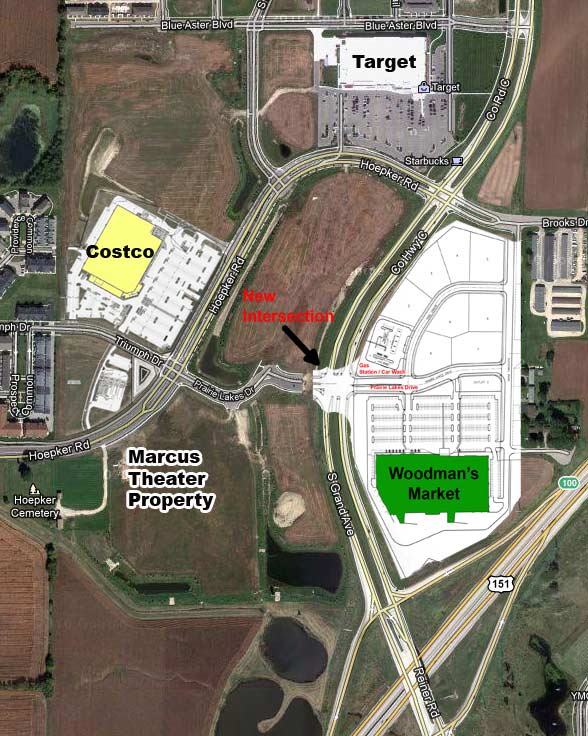 12/5/11
The proposed Costco Discount Store in the Prairie lakes Shopping Center received approval from the Sun Prairie Planning Commission by an 8-0 vote. It appears as though this is locked in. The 148,000 sq. ft. store and gas station will be located at the corner of Hoepker Road and Triumph Drive on the 17 acre parcel on the West side of Hwy 151. The proposal will go before the Sun Prairie City Council on Tuesday December 6th.
---
11/1/11
The proposed Costco Discount Store in the Prairie lakes Shopping Center is scheduled to be discussed by the Sun Prairie Plan Commission during its Nov. 22, 2011 meeting.
---
Costco Price Codes
The key is in the cents digits.
You will see pricing with the cents as 99 cents, 79 cents, 97 cents. What does this tell you?
Regular priced items usually end in 99 cents.
Items that must be cleared out end in 97 cents.
Items that end in 79¢, 49¢ or 89¢ mean that Costco got a special price from the manufacturer.
If you see an asterisk * in the upper right corner of the price sign, that means that the item is not being reordered. Doesn't mean a markdown but it means, when it is gone, it is gone.
---
(From Wikipedia.com)
Costco Wholesale Corporation (NASDAQ: COST) is the largest membership warehouse club chain in the United States. As of July 2009 it is the third largest retailer in the United States, where it originated, and the ninth largest in the world. As of October 2007, Costco is the largest retailer of fine wine in the world.
Membership Only
Costco is only open to members and their guests, except for purchases of liquor and gasoline in some US states because of state laws; and prescription drugs because of federal law. Memberships must be purchased in advance for one year (as of May 5, 2007). Purchases made at Costco's website do not require a membership; however, a 5% surcharge is added to purchases made by non-members. Purchases made with Costco Cash Cards also do not require a membership, and there is no surcharge. Canadian and United States Costco locations only accept American Express, PIN-based debit cards (Interac in Canada), cash, checks, and now EBT cards (food stamps). While Costco welcomes members to bring up to two guests, only the members may pay for items. American Express is the only accepted credit card (in the United States, Canada, and Japan) because they charge Costco very low interchange fees (a percentage of revenue from total sales made); as Costco's margins are low in comparison to other retailers. Costco accepts Flexible Spending Account (FSA) debit cards for qualifying purchases at the pharmacy and optical departments in the US. Costco.com accepts the American Express, Visa, MasterCard, and Discover cards. The website also accepts Bill Me Later accounts for payment.
As of November 2011 membership fees at Costco are $55 per year for a Gold Star (individual) or Business membership, which can be upgraded to Executive membership for an additional $55 per year. Along with the additional benefits the executive membership offers (e.g. car purchasing savings, home loans, car insurance, check printing services) Executive members also receive an annual "2% Rewards Check" of up to $750.00 from Costco on all purchases made, excluding select items such as gasoline, tobacco, stamps and in some states, alcohol.
Return policy
Costco memberships can be refunded in full at any time before they expire. Costco guarantees almost all of their products with a full refund within a reasonable amount of time. Exceptions include televisions, projectors, computers, cameras, camcorders, digital audio players, and cellular phones; these may be returned within 90 days of purchase for any reason for a refund. After 90 days those returns must be done through the manufacturer according to the terms of the warranty. Costco has negotiated with manufacturers to extend the manufacturers warranty to two years for new TVs and computers (five years on TV's sold by Costco in the UK). Costco also offers a free "concierge" service to members who purchase electronics, to help answer questions regarding setup and use and avoid potential returns due to not understanding how to use the products.
Over the years, Costco has gradually expanded its range of products and services. Initially it preferred to sell only boxed products that could be dispensed by simply tearing the shrink-wrap off a pallet. It now sells many other products that are more difficult to handle, such as fresh produce, meat, dairy, seafood, fresh baked goods, flowers, clothing, books, computer software, vacuums, Home appliances, home electronics, solar panels, jewelry, tires, art, fine wine, hot tubs, furniture and caskets. Many warehouses have tire garages, pharmacies, hearing aid centers, optometrists, photo processors, and gas stations. Optometrists working at Costco locations will see patients without Costco memberships.
Costco Optical ranks as the fourth-largest optical company in the US. A membership is required to fill a prescription at the optical department.
Some locations have liquor stores, often kept separate from the main warehouse in order to comply with liquor license restrictions. In some states (such as Texas), the liquor store must be owned and operated by a separate company with separate employees. In 2006, Costco lost a lawsuit against the state of Washington in which it was seeking to purchase wine directly from the producer, bypassing the state retail monopoly. In Australia, Costco has to comply with regulations set by each state they choose trade in; their first store in the state of Victoria benefits from some of the most liberal alcohol licensing laws in the country, with retailers permitted to sell alcohol on shelves within the store, in a manner similar to most European countries, yet they have chosen to have a separate checkout within the liquor section.
While some former Price Club locations in California and the northeastern United States are staffed by Teamsters, the majority of Costco locations are not unionized. The non-union locations have revisions to their Costco Employee Agreement every three years concurrent with union contract ratifications in locations with collective bargaining agreements. Similar to a union contract, the Employee Agreement sets forth such things as benefits, compensations, wages, disciplinary procedures, paid holidays, bonuses, and seniority. As of March 2011, non-supervisory hourly wages ranged from $11.00 to $21.00 in the United States, $11.00 to $22.15 in Canada, and £6.28 to £10.50 in the United Kingdom. In the US, eighty-five percent of Costco's workers have health insurance, compared with less than fifty percent at Walmart and Target.
Product-demonstration (e.g., food samples) employees work for an outside company. In the western U.S., the company is called Warehouse Demo Services, Kirkland, Washington. Costco also uses Club Demonstration Services, based in San Diego, California. In Canada, demonstrations are done exclusively by Professional Warehouse Demonstrations.

http://lenrapoport.hubpages.com/hub/Secret-Codes-Will-Save-You-Money-At-Costco