Georgia O'Keeffe Celebration
The Georgia O'Keeffe celebration is combined with the Sun Prairie Taste Of The Arts Fair. The O'Keeffe Celebration takes place in the Library and the Fair takes place in the Park across the street.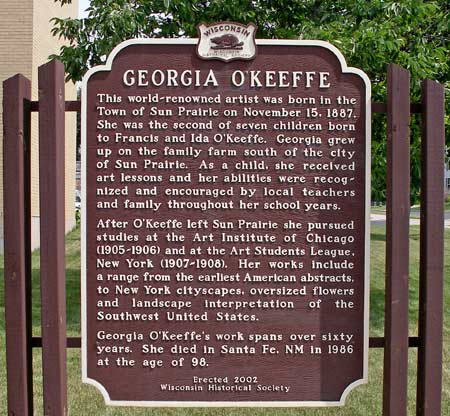 Georgia O'Keeffe was born on a farm in Sun Prairie, Wisconsin on November 15, 1887. O'Keeffe took art lessons in her home, as a child and in 1905, when she graduated from high school, she set off to make her living as an artist. She was a student at the Art Institute of Chicago and the Art Students League in New York from 1905-1908.

O'Keeffe taught art in the Amarillo, Texas public schools and Columbia College, Columbia, South Carolina. O'Keeffe married Alfred Stieglitz in 1924. Her husband worked successfully at promoting O'Keeffe's art. When Stieglitz died, O'Keeffe moved to New Mexico and her Ghost Ranch house that she had purchased in 1940. O'Keeffe continued to paint until her eyesight began to go bad during the mid 1970s. She died in 1986 at the age of 98.