Groundhog Day Sun Prairie 2011
Groundhog Day 2011
3/3/2011 Update: Jimmy did not see his shadow, this year, and Spring has arrived just as he had predicted! February 12-19 had above freezing temperatures. Seven consecutive days of above freezing temperatures are needed to declare an early spring.
2/2/2011 Update: Because of deep snow and Blizzard conditions, Interstate and local road closing, business and store closings, people being warned to stay at home and don't travel, the Groundhog Day event was not held today. Governor Scott Walker declared a state of emergency in 29 Wisconsin Counties. Government, Schools and pretty much everything is closed down today. East Towne and West Towne Malls are not scheduled to open, today, until noon.
Although Jimmy the Groundhog is hunkering down like the rest of us, he did take the time to tell us that he did NOT see his shadow and is thus predicting an early spring.
---
Jimmy the Groundhog, Sun Prairie's famous weatherman will make the annual Groundhog Day prognostication on February 2nd at 7:10 a.m., Cannery Square Plaza downtown Sun Prairie. The annual Groundhog Celebration/Community Breakfast is held January 29th at St. Albert's Parish, 2420 St. Albert the Great Drive. Don't miss this Sun Prairie tradition!
Hotline phone number, 608-837-4547: 7:15 to 9:00 a.m.
Call the hotline number on February 2nd to find out Jimmy's prediction.
If you have questions, please call the Sun Prairie Chamber of Commerce at 608-837-4547.
Cannery Square is directly across from City Hall.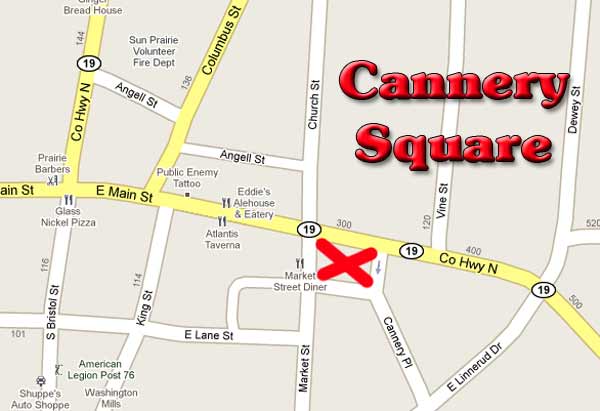 Directions to St. Albert The Great Church:
Get off Hwy 151 at Hwy 19.
Go West to North Thompson Rd. US Bank is on the NW corner.
Turn North.
Go about a mile down to St. Albert's Church. It is on the West side of the street.

Use the entrance from North Thompson Rd.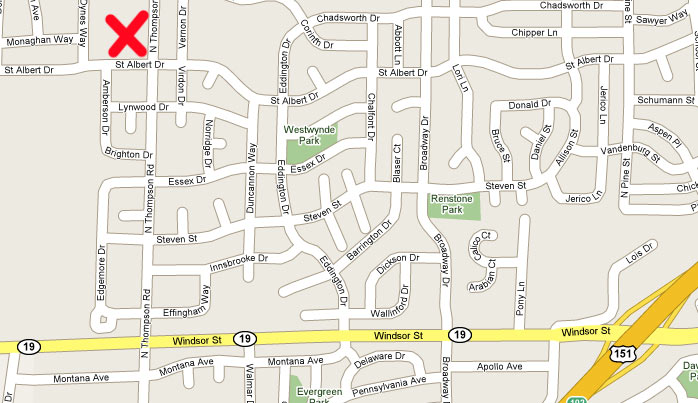 ---
---
---
Feb. 2nd, 2010: Update!!!
Jimmy the Groundhog predicts that we will have an early Spring! Mayor Joe Chase says that Jimmy has been right 80% of the time but Jimmy's owner says that Jimmy is right 100% of the time and it is the Mayor that has mistakenly interpreted Jimmy's predictions. Developing.........

---
Tuesday, February 2nd, 2010: Prognostication
Cannery Square, 7:00 a.m.
Jimmy makes his appearance at 7:00 a.m. on Tuesday, February 2nd at Cannery Square Plaza, Sun Prairie. At 7:10 a.m., he predicts either an early spring or 6 more weeks of winter. His accuracy rate is 80%! Jimmy always arrives in style with a fire truck escort. "Human Groundhogs" born on February 2nd will be recognized, so please come and celebrate with Jimmy in the Groundhog Capital of the World!
---
Join us the Saturday before the Prognostication for the Celebration and Community Breakfast!
Saturday, January 30th, 2010: Celebration and Community Breakfast
St. Albert the Great Church, 2420 St. Albert the Great Drive 8:00 am - Noon
Celebration and Community Breakfast
The free celebration will be held on January 30th, 8 a.m. to noon. The event features booths, entertainment, a birthday party for "human groundhogs" who celebrate their birthdays on February 2nd and lots of fun!
Breakfast: 8:00 a.m.-11:00 a.m. Price: $6.00 for adults, $3.00 for children 10 and under; pancakes, sausage or bacon, applesauce, milk, juice & coffee
Birthday cake for "Human Groundhogs": cake cutting at 8:30 a.m.
Entertainment: 8:30 a.m. to 10:30 a.m.
8:30 a.m. - Monona Academy of Dance
9:15 a.m. - Colonial Club Chorus
10:00 a.m. - Kicks Unlimited
Groundhog Chocolates are back! Stop by the Chamber booth to pick up delicious treats (from Pure Bliss Cakes and Catering).
Booths open: 8:00 a.m. to 12:00 p.m.
---
2/2/09
Unfortunate for those of us that were hoping for an early Spring, Jimmy the Groundhog saw his shadow and predicted that we will have six more weeks of Winter. Hopefully Jimmy will be just as wrong as he was last year when he predicted an early Spring and Spring got here in, it seemed like, June..
On this past Saturday there was a nice turnout of people for the Groundhog Celebration and Breakfast. Too bad they can't combine these two events on the same day like last year because a lot more people came to that. Might have had something to do with being on a Saturday last year. I was told by some older-timers than me that the celebration used to be huge and that school children were bused in from out of town.Not so big anymore when it is on a weekday and they split it up into two separate occasions.
---
2009 Schedule
Sponsered by The Star, Bank of Sun Prairie, St. Albert the Great Church,
and the Chamber of Commerce
Celebration
Prognostication

January 31st at St. Albert The Great Church
2420 St. Albert The Great Drive
Sun Prairie


Feb. 2nd, 7:10 am at Cannery Square Plaza

Hours: 8 am - 12 pm
Community Breakfast, food, fun, games, entertainment!

Groundhog Ball will be held February 2nd from 7:30 pm to 11:30 pm at the Round Table.
Here is the current schedule for the Groundhog Day Prognostication and Celebration, from the Sun Prairie Chamber of Commerce.
Feb. 2nd, 7:10 am: the Mayor and Jimmy will be introduced. Jimmy the Groundhog does his prognostication. There will be a reading of the Governor's proclamation. Representative Gary Hebl will read the Assembly Proclamation. Birthdays for those born on Ground Hog Day will be recognized.
Time for his prediction will be 7:10 am. Will it be 6 more weeks of winter or an early spring? Jimmy will know when either he sees or does not see his own shadow. Hopefully, Jimmy the Groundhog will be more accurate than he was in 2008. Better yet, instead of accuracy, let's have an early spring.
---
2/2/2008
The Groundhog Day Celebration in Sun Prairie was a great success. Personally, I would say that at least 500 people were on hand when the Prognostication ceremony started at about 7 o'clock. The city officials, including the Mayor and Representative Gary Hebel were on the stage and reading their proclamations. I thought they played along with the whole spirit of the occasion and were very humorous and entertaining. Jimmy The Groundhog arrived on the top of a Fire Department Ladder Truck to the cheers of the crowd. Everyone was glad to see him because, by the looks of the cloudy and overcast sky, he would be giving his prediction as being a shortened Winter and early Spring. Jimmy the Groundhog also announced that he was, indeed, going to run for President. "The People" want "change" and Jimmy figures he can change things as much as anyone and having a groundhog as President would be a change that he could deliver.
After Jimmy did his thing and predicted an early Spring, the crowd proceeded to go inside the church to look around at all the booth displays presented by various members of the Chamber of Commerce. Many people also went downstairs to the dining hall and had a great breakfast for only six dollars. Snow started coming down later in the morning and might have shortened the stay for some of the people and by 11:30 a.m. everything was pretty much over. Personally, I was surprised at how many people turned out for this event but it looked like everyone had an enjoyable time.
Click here to view pictures of the Groundhog Day Celebration in Sun Prairie, Wisconsin.
Click here to watch a MOVie file of the Prognostication Ceremony.
You will need QuickTime to play.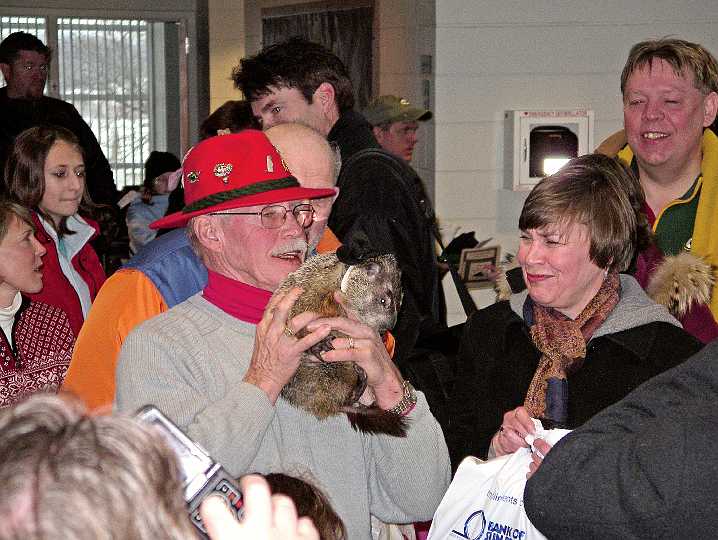 ---
Groundhog day has been celebrated in Sun Prairie since 1948 which was the State of Wisconsin's Centennial year. A good natured competition has gone on with the Punxsutawney, Pennsylvania Groundhog Club. Each city claims to have had the first Groundhog Day. The Sun Prairie Chamber of Commerce partners with local organizations to sponsor the celebration.

---
From Wikipedia.com:
Famous groundhogs
Punxsutawney Phil found in Punxsutawney, Pennsylvania
Wiarton Willie found in Wiarton, Ontario
Staten Island Chuck found in New York City, New York
General Beauregard Lee, PhD found in Atlanta, Georgia
Malverne Mel and Malverne Melissa found in Malverne, New York
Brandon Bob of Brandon, Manitoba
Balzac Billy of Balzac, Alberta
Shubenacadie Sam of Shubenacadie, Nova Scotia
Gary the Groundhog of Kleinburg, Ontario
Spanish Joe of Spanish, Ontario
Sir Walter Wally of Raleigh, North Carolina
Pardon Me Pete of Tampa, Florida
Jimmy the Groundhog of Sun Prairie, Wisconsin
Octoraro Orphie of Quarryville, Pennsylvania
Groundhog Day or Groundhog's Day is a holiday celebrated in the United States and Canada on February 2. In weather lore, if a groundhog, also known as a woodchuck, emerges from its burrow on this day and fails to see its shadow because the weather is cloudy, winter will soon end. If the groundhog sees its shadow because the weather is bright and clear, it will be frightened and run back into its nest, and the winter will continue for 6 more weeks.
Tradition beginnings

The groundhog (Marmota monax)is a rodent of the family Sciuridae, belonging to the group of large ground squirrels known as marmots.Around the fifth century, the European Celts believed that animals had certain supernatural powers on special days that were half-way between the Winter Solstice and Spring Equinox. Folklore from Europe indicated that when certain animals, such as marmots and bears, came out of their winter dens too early, they were frightened by their shadow and retreated back inside for four to six weeks.

American traditional origins
The earliest known American reference to Groundhog Day can be found at the Historical Society of Berks County in Reading, Pennsylvania. The reference was made Feb. 4, 1841 in Morgantown, Berks County, Pennsylvania storekeeper James Morris' diary: "Last Tuesday, the 2nd, was Candlemas day, the day on which, according to the Germans, the Groundhog peeps out of his winter quarters and if he sees his shadow he pops back for another six weeks nap, but if the day be cloudy he remains out, as the weather is to be moderate."
In the United States the tradition derives from a Scottish poem:
As the light grows longer
The cold grows stronger
If Candlemas be fair and bright
Winter will have another flight
If Candlemas be cloud and snow
Winter will be gone and not come again
A farmer should on Candlemas day
Have half his corn and half his hay
On Candlemas day if thorns hang a drop
You can be sure of a good pea crop
This tradition also stems from similar beliefs associated with Candlemas Day and Groundhog Day. Candlemas, also known as the Purification of the Virgin or the Presentation, coincides with the earlier pagan observance Imbolc.

Alternative origin theories
In western countries in the Northern Hemisphere the official first day of Spring is about six weeks after Groundhog Day, on March 20 or 21. About 1,000 years ago, before the adoption of the Gregorian calendar when the date of the equinox drifted in the Julian calendar, the spring equinox fell on March 16 instead. This was exactly six weeks after February 2. Assuming that the equinox marked the first day of spring in certain medieval cultures, as it does now in western countries, Groundhog Day occurred exactly six weeks before spring. Therefore, if the groundhog saw his shadow on Groundhog Day there would be six more weeks of winter. If he didn't, there would be 42 more days of winter. In other words, the Groundhog Day tradition may have begun as a bit of folk humor.
Alternatively, the custom could have been a folk embodiment of the confusion created by the collision of two calendrical systems. Some ancient traditions marked the change of season at cross-quarter days such as Imbolc when daylight first makes significant progress against the night. Other traditions held that Spring did not begin until the length of daylight overtook night at the Vernal Equinox. So an arbiter, the groundhog / hedgehog, was incorporated as a yearly custom to settle the two traditions. Sometimes Spring begins at Imbolc, and sometimes Winter lasts 6 more weeks until the Equinox.

Famous prognosticators and predictions
As stated earlier, a shadow of Punxsutawney Phil means six more weeks of winter and no shadow means spring is around the corner. Groundhog Day proponents state that the rodents' forecasts are accurate 75% to 90%. A Canadian study for 13 cities in the past 30 to 40 years puts success rate level at 37%. Also, the National Climatic Data Center reportedly has stated that the overall predictions accuracy rate is around 39%. Random chance at a correct guess would be about 50%
In fiction
At the end of Disney's 1930 Silly Symphony Winter, a Mr. Groundhog the Weather Prophet comes out of his hole to determine whether or not there will be more winter. At first, he does not see his shadow, but the clouds clear and his shadow appears, causing him to run back inside. At this point, the winds picks up again and winter continues. In the 1979 Rankin-Bass Christmas TV special Jack Frost, a crucial plot point in the story involves Jack casting his own shadow on Groundhog Day for six more weeks of winter. At the end of the story it is revealed that the narrator (voiced by Buddy Hackett) is the groundhog.
The 1993 comedy movie Groundhog Day takes place in Punxsutawney, Pennsylvania on this day (although the majority of the movie was actually filmed in Woodstock, Illinois). The main character (played by Bill Murray) is forced to relive the day over and over again until he can learn to give up his selfishness and become a better person. The movie consistently rates among the IMDB's Top 250 movies as voted by users.
Also in the As Told By Ginger episode "Next Question" Carl and Hoodsey liberate the towns Groundhog so they could sell scarfs remembering their Groundhog,Pete.When the matter is investigated,a monkey Mr.Licorice is in the hole,and people think that he ate Pete.
On January 9 2006, the Pennsylvania Tourism Office presented installments of the Groundhog 202 film series, a Groundhog Day promotion that played off The Shining. The film shows what happens when the groundhog, stuck inside for 364 days, goes mad with cabin fever. On January 11 2007, the Pennsylvania Tourism Office presented installments of the Groundhog Crossing film series, a Groundhog Day promotion that depicted the departure of the Shadow from his friend the Groundhog in an attempt to stop the cycle of winter predictions.