Walgreens Sun Prairie
The new Walgreens in Sun Prairie, on Hwy C, or "Grand Avenue," to the West of Hwy. 151is now open for business. This Walgreens is just off of Windsor Street.

---


546 N Grand Ave, Sun Prairie, WI 53590
Phone (608) 825-2678
Store Hours
M – F: 8:00AM-10:00PM
Sat: 8:00AM-10:00PM
Sun: 8:00AM-10:00PM

Pharmacy Hours
M – F: 8:00 AM-10:00 PM
Sat: 9:00 AM- 6:00 PM
Sun: 10:00 AM- 6:00 PM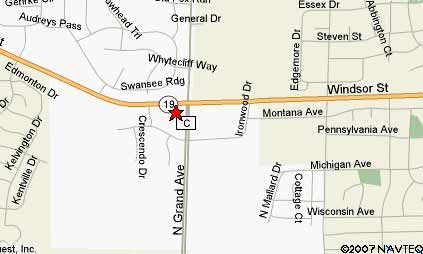 Store Number
10925

---
Sun Prairie has two Walgreens stores. This store is on the East side of Hwy. 151
275 Davison St, Sun Prairie, WI 53590
Phone
(608) 837-8566
Store Hours
Open 24 Hours

Pharmacy Hours
Open 24 Hours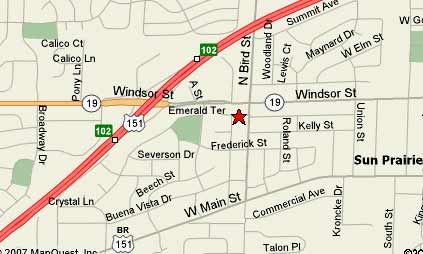 Store Number
3291

---
Text below is from Wikipedia.com:
http://en.wikipedia.org/wiki/Walgreens
Walgreen Co. (NYSE: WAG), d.b.a. Walgreens (without an apostrophe), is a leading pharmacy chain, mail service pharmacy, pharmacy benefit manager, and specialty pharmacy which has operations in 49 states and Puerto Rico. There are 6,148 Walgreens (as of December 31, 2007) in operation with a current goal to have 7,000 stores by 2010. Of the 6,148 Walgreens locations, 1,616 of them are open 24-hours, including the pharmacy. Over 4.7 million customers are served by Walgreens daily chain-wide and over 580 million prescription scripts are filled annually. Walgreens was founded in Chicago, Illinois, in 1901 and has since expanded throughout the United States. Its headquarters is located in Deerfield, Illinois, a suburb of Chicago. Its main competitors are CVS/pharmacy, Wal-Mart, Rite Aid as well as Target Corporation and Osco.
A typical Walgreens store is about 14,500 square feet with 11,000 square feet of sales area. They offer nearly 25,000 items for sale and typically staff between 25 and 30 people per store. On average, one store pulls in $8.5 million in annual sales. Most stores include a pharmacy, a photo lab, a cosmetics counter, and a general merchandise area. Select stores in metropolitan Chicago, Florida, Atlanta, Kansas City, Las Vegas, and St. Louis now include Walgreens TakeCare Health Clinics where certified (primarily nurse practitioners, and in some states, registered pharmacist) staff diagnose, treat, and prescribe for common illnesses and can also issue vaccinations and physicals in select locations. These clinics are open 7 days a week; including evenings and weekends with no appointments necessary and with acceptance of most major insurance plans. If a patient uses the TakeCare Clinic, their prescription is automatically processed through Walgreens' Intercom Plus Pharmacy System as a waiting prescription, so in most stores, the prescription is ready to be picked up in 15 to 20 minutes.
The Walgreens chain began as a drug store owned by Charles R. Walgreen, Sr.. [1]By 1915, there were five Walgreen drugstores. He added several improvements to the stores such as soda fountains and luncheon service. He also began to make his own line of drug products and was then able to control the quality of the items and sell them at lower prices. By 1916, 19 stores were in operation, all in Chicago. And in that same year, all the stores were consolidated under Walgreen Co. the 1920s was a very successful year for Walgreens. In 1921, the company opened stores outside of residentials areas and also introduced the malted milk shake in 1922. Walgreens also established its very own ice cream manufacturing plants to match the demand for ice cream at that time. By the mid 1920s, there were about 65 stores with an annual sale of 1.2 million dollars. By this time, Walgreens had expanded into other states like Wisconsin, Missouri, and Minnesota. By 1930, there were 397 stores in 87 cities with annual sales of 4 million dollars. The company did not really suffer from the Stock Market Crash and Great Depression. By 1934, Walgreens was operating in 33 states with over 600 stores. After Charles Walgreen Sr. died, his son Charles R. Walgreen Jr. took over and ran the chain until his retirement. The Charles R. Walgreen Jr. years were relatively prosperous, but lacked the massive expansion seen in the early part of the company. Charles "Cork" R. Walgreen III took over after Jr's retirement in the early 1970s, and brought the company through many modern initiatives, including the switch to a computer inventory based system (bar code scanning). The Walgreen family was not involved in senior management of the company for a short period following Charles' retirement. In 1995, Kevin P. Walgreen was made a vice-president and promoted to Senior Vice-President of Operations - Southern Division in 2006.
Originally, Walgreens stores were connected to local groceries, for example in Chicago, which is Walgreens primary market, they teamed up with either Eagle Food Centers or Dominick's Finer Foods, usually with a "walkthru" to the adjoining store and often sharing personnel. This concept was instated to compete with the popular dual store format used by chief competitor Jewel-Osco. Eventually, they ended the relationship with Eagle and focused primarily on a connection to the Dominick's stores, which were considered to be of a better quality. PharmX-Rexall stepped in and filled the vacated Walgreen locations joined to Eagle stores.
In its current business model, new Walgreens locations are most commonly set up as freestanding locations at the corners of busy, intersecting streets -- literally making it a "corner drugstore" similar to how many independent pharmacies evolved over the years in the United States. This also usually allows the store to offer additional conveniences such as a drive-thru pharmacy and 24-hour shopping that would not be possible in the average shopping mall. Walgreens also offers "auto refill". Customers can have their prescriptions automatically refilled each month for no additional charge. Walgreens sells freshly brewed drip coffees, Icees, and fountain beverages at select stores, as part of the pilot "Café W" program. Over 3000 locations have equipment to refill inkjet cartridges. As of March 2007, Walgreens has introduced flat pricing, $10 for black, and $15 for color.