Monk's Bar And Grill, Sun Prairie
---
7/29/2014
Construction on Monk's Bar and Grill in Prairie Lakes Shopping Center is progressing. The picture doesn't show it but they are starting to put up the walls.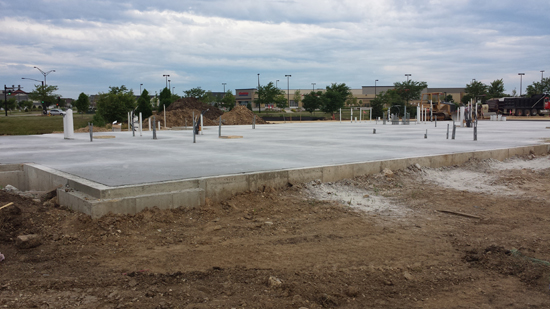 This is a shot of Monk's in Prairie Lakes from across one of the "Lakes". Ha! It will make for a nice, senic outdoor seating area. We are looking forward to eating and drinking at Monk's and hope it is even better than the Wisconsin Dells Monk's.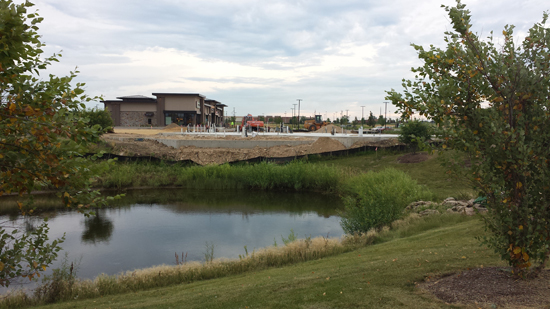 ---
5/23/14
Monk's bar and grill has announced that it will, indeed, be building a new restaurant in the Prairie Lakes Shopping Center. They will have a groundbreaking ceremony on June 4th, weather permitting. The dining room and bar area will seat 170 people, inside, and 45 people in the outdoor dining area which will overlook the pond.
Monk's has a tenative opening date for some time in September.The franchise owner is Greg Frankov and he owns another Monk's which is on the West side of Madison.
---
On October 8th, 2013, The Planning Commission members voted to recommend to the Sun Prairie City Council that they approve of the planned Monk's Bar and Grill in Sun Prairie and on October 15th, the City Council approved the Monk' Bar and Grill plan. The new restaurant will be 5,486 square feet and will have an outdoor patio area. It seems to me that they will be building on the SW corner of Prairie Lakes Drive and Grand Avenue. The exact location is confusing because the newspaper says that it is "located on the southwest corner of 702 Grand Avenue on the eastern side of the intersection of Hoepker Road and Prairie Lakes Drive." I have clarified that with Scott Kugler and he says that the building will be on the NE corner of Prairie Lakes Drive and Hoepker Road. Right by that holding pond.
Construction might be started in April or May of 2014 and hopefully open by Fall of 2014.
The new Monk's will have indoor seating for 160 customers and an outdoor patio that will seat about 60 customers. Operating hours will be 11 am to 11 pm except for Friday and Saturday when they will be open until 2 am.
Monk's Bar & Grill currently has four other locations:
Wisconsin Dells: 220 Broadway, Wisconsin Dells WI, 53965
Lake Delton (Wilderness): 45 Hillman Rd, Lake Delton WI, 53965
Baraboo: 116 4th Avenue, Baraboo WI, 53913
Middleton: 8313 Murphy Drive, Middleton WI, 53562
I know that, every time my family goes to the Dells, we always stop at Monk's for their great hamburgers. The only thing that I hope is different at the Sun Prairie Location would be that they give you at least a paper plate to eat off of. Eating off waxed paper may save money for the bar but, I would like a real plate. Go ahead and charge me an extra penny to cover a paper or foam plate.
Monk's Bar & Grill is known throughout the Midwest as the place to go for a great burger and friendly service.