Woodman's Food Market Sun Prairie

949 South Grand Avenue
Sun Prairie, WI 53590
(608) 825-1511
@WoodmansFood31


Grocery Store Hours – Starting 8/16

Open 24 Hours a Day*
* Thanksgiving Closed 1:45pm to 6am the following day
* Christmas Closed 5:45pm Dec. 24th to 6am Dec. 26th
* New Years Closed 9:45pm Dec. 31st to 9am Jan. 1st

Liquor Store Hours – Starting 8/16

Open between 8am – 8:50pm Every Day*
* Thanksgiving Closed 1:45pm to 8am the following day
* Christmas Closed 5:45pm Dec. 24th to 8am Dec. 26th
* New Years Closed 8:50pm Dec. 31st to 9am Jan. 1st

8/14/2012

Woodman's is open. Still doing a little work and a few things are not priced but they are letting people in to shop.

I got some Kosher baby dill pickles, 32 oz, for $1.59. Great price.
Didn't have my shopping list so just kinda cruised through the place.
It is huge!

---

8/6/2012: Woodman's Facebook page says that the store will be having their Grand Opening on August 16th. Whether that is the "soft" opening or the "hard" opening, time will tell. Generally, stores will do a soft opening before the announced date so as to work out any bugs and so the employees get in a little practice, but maybe this is it since they do not plan an official ribbon cutting until September.

---

7/19/2012: Just got word from a Woodman's representative and he said they are taking applications at the Sun Prairie store and then will be opening in late August. After three years of employment, as it states on the Woodman's website, you will be given stock in the Woodman's store.

---

6/22/2012: I just talked to a Woodman's representative and she says that they are planning on opening "by September 1st, 2012" . I would imagine that they want to have their grand opening before Costco opens, also, they say, in September. They have what looks like all of the lighting in. My question would be: what are they going to be doing in the next two months? Seems like it is almost finished except for the food.

When it does open and Costco opens, within a few acres, we will have three places to get groceries, one department store, two gas stations, one car wash, one oil change service, and a new Pizza Ranch restaurant coming soon after.

To the North of the Woodman's store will be several outlots which will be called "Bunny's Corners." On one of the lots Woodman's will operate a Gas Station / Car wash. Other possibilities for the lots would be a restaurant, retail and probably a bank. Those interested in the outlots can contact Bret Bachus at bret.backus@woodmans-food.com
The new store will be approximately 225,000 sq. ft. This is almost twice the size of the Target Store, across the Hoepker / Grand Blvd. intersection. Target is only 128,000 sq. ft. The store will employe 200 people and represents a $20 million investment by Woodman's.
Click to see the property layout for Woodman's and Prairie Lakes Shopping Center.
---
Woodman's Sun Prairie Building Progress Report 2012

July 15th: Employee break room finished. (Wonder when the "help wanted" sign will go up?)
July 14th: Shelfs are getting stocked
July 13th: Self checkout lanes in the liquor departmet
June 26th Blacktop finished.
June 25th: Storefront doors and glass being installed
June 25th: Bathroom fixtures installed.
June 22nd: Logo is getting painted on the building.
June 22nd: Started setting up Frozen Food cases.
June 21st: Floor tile almost complete
June 21st: Starting setting up Grocery shelves
@woodmansfood31
http://www.facebook.com/media/set/?set=a.314143285302100.75213.254914847891611&type=1
11/21/2011
Building going up. View is looking South.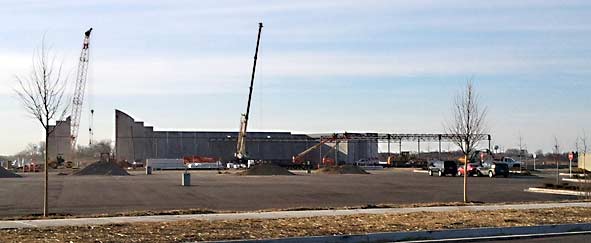 ---
8/13/2011
Updated images for Woodman's construction. Looks like they are putting in drainage, sewage and water pipes. Also continued construction of the new intersection with Cty Hwy C (Grand Avenue)
The three pictures, below, were taken looking roughly North East



The view below is looking roughly South.

New intersection and entrance to the Woodman's Market, below.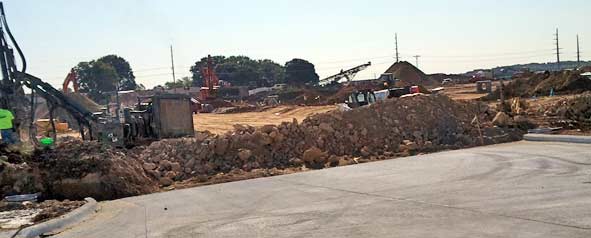 Looking towards Grand Avenue

---
8/13/2011
Woodman's food market will be opening a new location in Waukesha, Wisconsin, bringing more than 200 jobs with it. Construction on the food merchandising center and gas station is expected to begin early next year. It will be built at the northwest corner of Highway 164 and Main Street.
The store is expected to open no later than the summer of 2013.
---
7/15/2011
The ground breaking for the new Woodman's Market took place today at 9 a.m. About 100 people attended including Mayor John Murray.
Below: you can see the cars in the background going South West on Hwy 151.
Also below, Mayor Murray, Clint Woodman and Bret Backus. Backus said that this will be the best Woodman's store yet and will have a different atmosphere from the other two Woodman's stores in the Madison area. (Lots of people we be glad to hear that since, although people love the low prices, they complain a lot about perceived untidiness of the other Madison area stores.)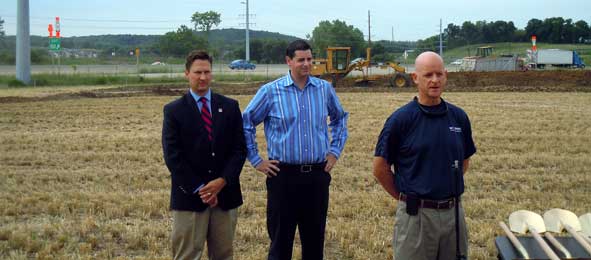 Below, from the left:
State Rep. Gary Hebl; Dane County Supervisor Bill Clausius of Sun Prairie; Mayor John Murray; Clint Woodman from Woodman's Markets; Bret Backus from Woodman's Markets; City Planning Director Scott Kugler; Gary Fox, President, Building Systems General Corp.; District 4 Alder Mary Polenske; and District 1 Alderman Hariah Hutkowski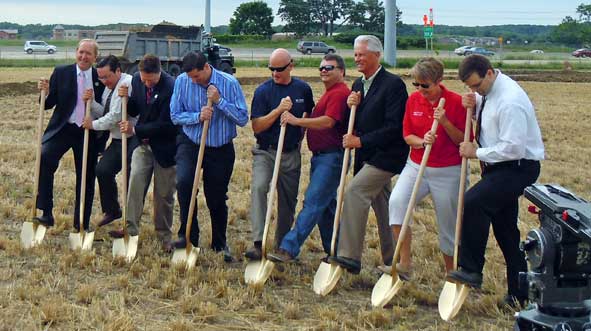 ---
7/14/2011
The earth movers and dump trucks just couldn't wait another day to begin their unofficial ground breaking. Apparently there is not enough "ground" in this area because there was a parade of dump trucks going in and out of the property bringing dirt in and dumping and going back somewhere and picking up more. This picture was taken from the old Hoepker Road looking South. You can see the power lines going down Grand Avenue (Cty Hwy C).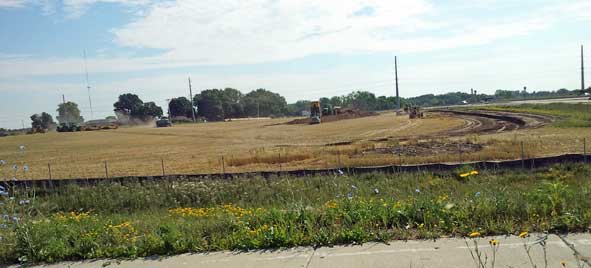 ---
7/12/2011
Earth movers lined up waiting for the official ground breaking on the 15th at 9 a.m. Whatever had been planted in these fields has been harvested in the past few days.

---
7/11/2011
It has been reported that Sun Prairie officials have received an email notice that the official ground breaking for the new Woodman's Market will be at 9 a.m. on Friday July 15th.
Also: The Sun Prairie Planning Commission spokesman said, today, that Woodman's will start construction soon.
7/5/2011
Looks like some kind of construction or excavation starting over at the Woodman's site.
This shot, directly below, shows some excavation in the Woodman's Market lot. You can see the Target store in the upper right background on the corner of Hoepker Road and Grand Avenue which is North of the future Woodman's store.

Here, below, is another view of the Woodman's excavation. You can see the Providence Subdivision in the background, to the West, with the church steeple sticking up right in the arch of the excavator's shovel mechanism. In-between Providence and the Woodman's, Grand Avenue runs down to Hwy 151 for easy off and on for customers of Woodman's Food Market or the Target Store. Directly across from Woodman's. to the West, is the site of the future "Upscale" Prairie Lakes Shopping Center and the future new Marcus Theater. No construction date has been set for the Marcus theater but some have said that, once the Woodman's starts to draw people to the area, the Marcus Theater will be built and the Prairie lakes Shopping Center will take off and really spur development in the area. The trifecta of Target, Marcus Theater and Woodman's Food Market should be just what Sun Prairie needs to be one of the main Madison area destinations for shopping, dining and recreation.
The day after these pictures were taken, there was some more equipment over in the Prairie Lakes Shopping Center property, adjacent to Providence. Seemed like they were drilling into the soil or something. This might be the city of Sun Prairie getting ready for new streets. Just speculation.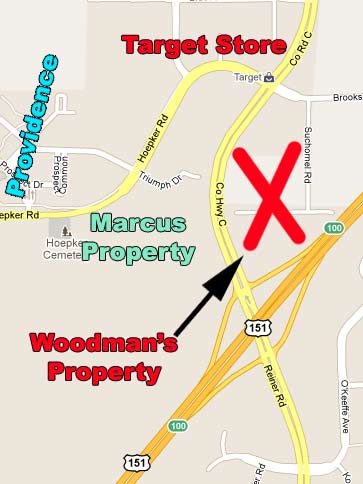 ---
4/19/2011
The City Council unanimously approved the Woodman's revised plans with the Woodman's Food Market plan rotated 90 degrees so that it will face more towards the South rather than the West.
If all goes as planned, building will commence in June of this year and the store will open late Summer or early Fall of 2012.
---
4/12/2011
The planning commission meeting finally got around to going over the Woodman's revised plans after an extensive hearing about a potential Muslim Church building on the north side of Highway 19 and just West of Highway 151. The new plans for Woodman's involves rotating the building 90 degrees and splitting off the gas station and car wash and putting them north and across the new street that will be built connecting Woodman's, on the East side of Hwy. C and Prairie Lakes Shopping Center on the West side of Hwy. C and having a main intersection and stop lights with Hwy C aka "Grand Avenue". This intersection will be South of the stop lights at Hoepker Road by Target. Not far; maybe a couple hundred yards South. The spokesman for Woodman's was adamant that they would not stand for any restriction on their access to their store, now or in the future. He said that a "right in and right out" would not be acceptable. Period. He seemed like he was used to getting his way. The president of one of the condo associations in the nearby Providence Subdivision stayed late to welcome Woodman's to the neighborhood.
The plan was approved unanimously and will now move on to the City Council which will meet next Tuesday, the 19th.
If all goes as planned, the store will open late Summer or early Fall of 2012.
---
4/7/2011
Woodman's Food Market in Sun Prairie is back on track again. On April 12th the store building plan will come before the city's Plan Commission. If it passes, it would go before the City Council the following week. Some design elements have changed since the original plan passed and have to be approved again. If all goes as planned, ground breaking would begin in June or July of 2011. The Sun Prairie Woodman's store would likely open in 2012.
---
Update 1/22/09
Woodman's has confirmed that it will not be building on it's Sun Prairie property in the near future choosing to build it's next store in Menomonee Falls. The Menomonee Falls area is already built up while the Sun Prairie location is just in the process. In light of the current economic situation, nobody is surprised by this decision. The Target store, that will be opening in March, will have a new Fresh food component which may satisfy people who only need some milk and bread and other basic foods or supplies.
---
Update 6/27/08
On June 24th, the members of the plan commission unanimously voted to recommend final approval of a new Woodman's Food Market PIP, (Precise Implementation Plan) to be located close to the intersection of Hwy C and Hwy 151.
Woodman's representative Bret Backus, when asked when the company intended to construct and open the new store, replied it could be anywhere from 2010-13. So much for the "precise" in the implementation plan. Apparently property which Woodman's leases would be built upon before property which it owns, such as the Sun Prairie land.
---
Update 2/6/08
Last night, the Sun Prairie Council approved the plans for the new Woodman's Food Market to be built on Grand Avenue (Hwy. C), just off the Exit #100 off-ramp on Hwy. 151. The Woodman's store is scheduled to open in the Spring or Summer of 2010.
---
Update 1/23/08
Last night, the Sun Prairie Planning Commission voted unanimously to forward with approval to the Council, items relating to the planned construction of the new Woodman's Food Market in Sun Prairie. One item concerns amending the city's Westside Neighborhood Plan so that Woodman's can construct a 217,778 sq. ft. grocery store, a 2,952 sq. ft. convenience and auto/fuel center with a car wash.
The Vice President of Woodman's Food Market, Bret Bachus, appeared before the commission and said that Woodman's was deviating from its traditional store appearance in order to provide a facility that would be more attractive to Sun Prairie. Judging by it's store at 3817 Milwaukee Street in Madison, this will be welcome indeed. That store must be one of the original Woodman's and not exactly attractive.
Woodman's says that it will employ approximately 200 people at the store. The Car Wash and Fuel Center would be open for business from 7 a.m. to 9 p.m. seven days a week.
Update 1/15/08
Woodman's Food Market is going before the Sun Prairie Plan Commission on January 22nd to ask for approval for building a 225,000 square foot grocery store, a 2,000 square foot convenience store with ten gas pumps, a car wash and a "lube center." The request will also include changing the land use from "mixed use commercial" to "retail." The Sun Prairie City Council would consider the measure on February 5th if the Plan Commission approves.
Woodman's says that, if the get the go-ahead, construction would likely start in the Spring of 2009 and opening the store in Spring or Summer of 2010. Woodman's has owned the Sun Prairie property since 1999. Sun Prairie residents would welcome the discount prices and competition that the new store would bring to the West Side development.
---
1/7/08
The Woodman's Food Market has property almost "kiddie corner" from the proposed Super Target, on Highway C on the East side and just South of Brooks Drive. In late 2007, Woodman's said that it was going to soon submit plans to build on this property but nothing has been announced as we enter 2008. Woodman's has 11 stores and is building its 12th store in the Milwaukee suburb of Oak Creek.
---
From Wikipedia.com
http://en.wikipedia.org/wiki/Woodman's_Food_Market
The company was founded as a small grocery in Janesville, Wisconsin by Willard Woodman, a meat cutter. Willard's sons Phillip and Dan expanded the business into supermarkets serving medium-sized cities in the area. Beginning with their third Janesville location, they expanded to a big box format, and now build each of their stores as anchors to a small retail complex. In the 1990s the company was sold to its employees through stock share; Phillip remains President and CEO.

Woodman's works on a warehouse model, operating stores in the 200-250,000 square foot range, as opposed to the 50-75,000 square foot size of typical grocery stores. Stores are built with a minimum level of amenities, usually with the cheapest materials available at the time. Older locations, constructed in the 1980s, have faux-stucco concrete exteriors and wood-paneled interiors. These stores are beginning to be renovated, although work proceeds very slowly because the company prefers not to take on debt.
Each store carries about 70,000 items, compared to the 15,000 carried by a typical supermarket.
Prices at Woodman's are very low, due to the bulk purchasing model of the company and its attention to overhead. Most items are stocked on the shelves by employees, but special bulk purchases and other items are sometimes shelved in their shipping cases or stacked in the aisles. A number of items are regional brands not typically found in Wisconsin. Woodman's carries an extensive array of products from outside the U.S, with the selection in their ethnic foods aisles larger than that of an entire urban ethnic grocery.
Woodman's liquor sections are among the largest in the nation. Beer selection includes national brands and a wide selection of regional craft brews and imports; many other brands can be obtained by special request. The wine and liquor selections are comprehensive across a range of price points and styles. At a new or newly-renovated Woodman's, the liquor store will be as large as a typical small-town grocery.
Produce, because it is purchased in bulk from the cheapest supplier available at any one time, varies greatly in quality and freshness from one time to another. A common practice is to put an entire pallet of merchandise on the sales floor, cut the tops off the boxes and leave it up to the customer to literally dig through the product. Other perishable items, such as meat and dairy products, can vary as well.
Woodman's allowed payment only by cash or check until 2004, when they started to accept debit cards. Woodman's does not accept payment by credit card as they will not pay processing fees or assess them on their customers. The company does not operate a website and does relatively little advertising. The net result is that prices are, on average, 10-20% cheaper than their competitors.
Shopping carts are varied, with the newest stores having electric carts for those unable to navigate the large area of the store, oversized carts for those making large purchases, and child friendly carts which allow two children to be strapped in, while leaving full access to the cart itself for purchases.
The company formerly owned a stake in Roundy's, now a key regional competitor.

Woodman's has eleven locations:
Wisconsin
Janesville
Onalaska
Madison (West and East)
Appleton
Beloit
Kenosha
Green Bay
La Crosse
Illinois
Carpentersville
Rockford
North Aurora