City of Sun Prairie Wisconsin Info Site!
---
10/29/2014

Looks like there is a chance that Menards will be coming to Sun Prairie and near the Prairie Lakes area.
---
10/14/2014
Associated Bank begins construction in the Prairie Lakes Area
---
8/19/2014
Aldi Store Construction has begun
---
7/29/14
Accidents Designed to happen on Prairie Lakes Drive
(Drivers beware. This is a gift from the City of Sun Prairie planners. Right on the corner with Monk's Bar and Grill, Cabela's and Starbucks.)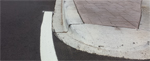 ---
7/29/14
Monk's Bar and Grill construction progressing
---
7/29/14
Cabela's Construction Progresssing
---
7/29/14
Marcus Theatres Palace Cinema Construction progressing
---
7/29/14
Fleet Feet, Prairie Lakes, Construction progressing
---
7/11/14


MACS Macaroni And Cheese Shop is now open in Prairie Lakes
---
7/11/14

Aldi Grocery approved by City Council
---
6/21/14

Fleet Feet Sports coming to Prairie Lakes
---
5/23/14
Monk's Bar and Grill will break ground on June 4th, 2014
---
4/15/2014
Charter Cable NEW TV Listings, Alphabetically by Channel Name
---
1/22/14


Fiber Optic Cable, 50 times faster than Charter Cable, Coming to Sun Prairie?
If you want it, you have to contact your Alder Person. They are debating this now.
---
1/16/14
Marcus Theaters announces, again, building in Prairie Lakes Shopping Center: "will have all reserved DreamLounger(SM) recliner seating in every auditorium, two UltraScreen DLX(TM) auditoriums, four Big Screen Bistro(R) auditoriums, a Zaffiro's Express and a Take Five Lounge"
---
10/25/13
Marcus Theaters back on the table again??
---
10/24/2013
Trick-or-Treat in Sun Prairie is October 31, 2013, from 5 p.m. to 7 p.m.
This info was not easy to find but, I think it is correct. It was on the official SP website.
---

Cabela's hunting and fishing might be coming to Praire Lakes Shopping Center
---
Prairie Lakes Shopping Center Page updated.
---
10/21/13
Marcus Theaters is GONE from the Praire Lakes Shopping Center website. After only three to four or more years of jerking Sun Prairie around: GONE!!!!
---
10/1/13

Monk's Bar and Grill coming to Sun Prairie, Praire Lakes
---
8/22/13
Will Marcus Theaters switch to a different lot still within Prarie Lakes?
---
8/10/13
Prairie Lakes Drive aka "Prairie Lakes Le Mans Drive", will be redesigned.
---
7/26/13
The Costco Gas Station "Squeegee Nazi"
---
7/21/2013
"The Shoppes at Prairie Lakes"
Update: more stores have been announced for The Shoppes At Prairie Lakes:
Rocky Rococo, Which Wich, Sport Clips, Forever Yours Jewelry
---
2/27/2013
"The Shoppes at Prairie Lakes"
Orange Leaf Frozen Yogurt

---
2/2/2013
Charter Cable is shrinking its analog channel selection down to zero eventually.
---
12/18/2012




Could Prairie Lakes be getting a Sport Clips "Home of the MVP Haircut Experience!"??
---
11/16/2012
Costco is now open for business and going strong judging by their packed parking lot..
---
10/28/2012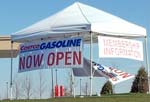 Costco Gas Station is now open

Store is closed until Nov. 15th.
There has also been a lot of construction going on in the Prairie Lakes Shopping Center.

---
10/20/2012
Marcus Theatres is close to finalizing plans for the new Cinema complex in Prairie Lakes Shopping Center.
---
9/14/2012
Costco construction progressing. Help Wanted signs are up
---
8/14/2012
Woodman's says that they don't open until August 16th, but I went there today and they are letting people shop already. It might not be 24 hours, yet, though.
7/31/2012
Pizza Ranch coming to Sun Prairie!

---
7/30/2012
Tenative opening for the Sun Prairie Costco
---
8/4/2010
Sacred Hearts Annual Fall Festival
Sacred Hearts annual MEGA Rummage Sale
---
7/19/2012
Woodman's is taking applications at the Sun Prairie Store and planning on opening "in late August."
---
6/22/2012
---
6/22/2012
Woodman's is planning on opening "by September 1st"
---
5/11/2012
Special Planning Commision on Prairie Lakes Development. New Construction planned.

---
5/10/2012
Costco Construction begins with the Earth Moving equipment being moved on-site.
---
4/18/2012
Costco Grand Opening Date Set
---
4/17/2012
Sun Prairie City-Wide Rummage Sale May 4th and 5th, 2012
---
2/17/2012
Costco and Sam's Club comparison
---
12/7/11


Costco Store gets approval of the Sun Prairie City Council
---
11/21/11
Woodman's Grocery Store Building is going UP
---
11/11/2011
Charter Cable: Up, Down, Up, Down. Here is a utility to keep track of up time and down time and you can use it to call Charter and tell them you want to be reimbursed for all your DOWN TIME. It happens too much. They should not be charging for service that is not working.
---
11/03/2011
Marcus Theaters asks for Extension on Development
---
11/1/2011


Looks like we might be getting a Costco Wholesale Store in Sun Prairie
---
8/19/2011
Main Street / Hwy 151 Construction Work
---
7/15/2011
---
7/15/2011
---
7/14/2011
---
7/11/2011
---
6/12/11

Sacred Hearts annual MEGA Rummage Sale
---
4/27/11
Sun Prairie City-Wide Rummage Sale
---
4/24/2011
Entertainment Publications Coupon Book Gets Spanked by the Wisconsin Department of Agriculture, Trade and Consumer Protection.
---
4/19/2011
Woodmans Back On Track! Approved by the Planning Commision and the City Council

---
3/15/2011
Prairie Lanes Bowling

---
2/2/2011
---
8/25/2010
Check out Belso Design

---
8/4/2010
Sacred Hearts Annual Fall Festival September 11 and 12, 2010
Sacred Hearts annual MEGA Rummage Sale August 12, 13 and 14, 2010
---
7/17/2010
Charter Communications now will post your Rants and Raves.
(Are there really some Raves out there? Its hard to believe, I know.)
---
5/19/2010
Prairie Development LTD announced, on May 18th, the addition of Marcus Theatres to its Prairie Lakes retail development in Sun Prairie.

---
4/29/10


Choose Hope Inc. Cancer awareness products and gifts.
---
4/14/2010
So, how does Charter know if they have a problem with the internet?
---
3/17/2010
One lady's experience at Woodman's Food Market. Is this the service we can expect?
---
3/12/10
At Charter Cable, the joke is on YOU!
---
3/9/10


Check out Cannery Wine & Spirits
---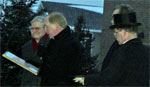 Groundhog Day Prognostication, February 2nd, 2010
. Also: Don't miss the Groundhog Celebration at St. Albert's Church on Jan 30th.
---
1/15/10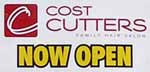 Cost Cutters on Main Street is NOW OPEN!
---
11/5/09
Did you miss the first annual Sun Prairie Business Expo?
---
11/1/09


Little Caesars Pizza is open in Sun Prairie
---
11/1/09
Charter Cable Sends notice of Price Increases
---
10/3/09
Charter Cable is planning a new Digital Transition for you and you are NOT going to like it.
---

Sweet Corn Parade
Sweet Corn Fest
2009
August 20th thru 23rd
---

7/21/09
Fan 4 Ever is going out of business!
Everything is on sale at 50-75% off. It will close its storefront permanently on 7/31/069.
---

Saturday, July 4, 2009 ~
Flags of Freedom Parade
---
71//09


The new St. Mary's Emergency Health Center pictures updated.
NOW OPEN!!
---
7/1/09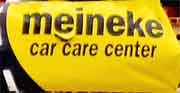 Meineke Car Care Center
NOW OPEN!!
Meineke Car Care Center Grand Opening Celebration July 26th
10 am to 2 pm
---
4/7/09
Clean Master Carpet Cleaning
---
3/20/09


Karate America Mixed Martial Art
---
The New Target Store is now open!
---
12/31/08
Sun Prairie Post Office Cuts Counter Service Hours
---
12/31/08
According to a survey by Forrester Research of 4,500 consumers, Charter Communication was found at the absolute bottom of the 114 companies surveyed in a dozen industries Is anyone surprised?
---
12/1/08 Target Grand Opening Schedule!

---
12/12/08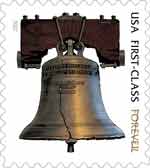 Forever Stamps. Are they really "Forever?"
---
11/29/08


Updated images of the UW Credit Union. Now Open.
---
11/29/08
A new Kwik Trip is now open near the Copps Food Store and Walgreens on Hwy C and Hwy 19
---
6/27/08
Planning Commission recommends final approval for Woodman's.
---
06/17/08
Market Place pictures updated with new
UW Credit Union pics.
Target Store pictures updated.
Prairie Lakes Shopping Center picture updates
---
6/4/08
New business added to our website: Regency Place, Hunter's Creek, Hickory Pointe, Hunter's Ridge, Hunter's Trail
---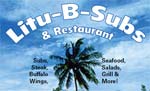 Litu-B-Subs
---
5/19/08


---
4/24/08


The Sun Prairie Planning Commission and the Common Council voted to grant the developers for Target Corporation's request to downsize
---
4/10/08

UW Credit Union will begin construction of a new, full-service branch in the Market Place Area.
---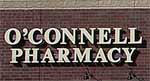 O'connell Pharmacy, in the Market Place is now open for business.
---
Burrachos Fresh Mexican Grill is NOW OPEN!
Burrachos will have Burritos, tacos, nachos & salad custom built before your eyes! Burrachos specializes in providing customers with their food prepared the way they want it.
---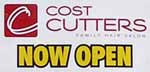 Cost Cutters in the Market Place Building is NOW OPEN!
---
Super Target In Sun Prairie (Click Here)

Prairie Development, Ltd. has sold some of its property, which is located on the Northwest corner of the intersection of Hoepker Road and Highway C, in the city of Sun Prairie to Target.
Click here for more information on the Super Target and Prairie Lakes Development in Sun Prairie.
---
Woodman's Food Market
Woodman's Food Market received approval to build a a 225,000 square foot grocery store....
---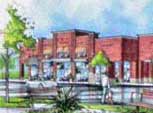 Market Place In Sun Prairie (Click Here)
Pictures updated 10/9/2007
New construction on Sun Prairie's West Side is booming with the start of construction of the Market Place building.
---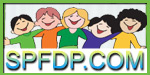 Firemen's Dream Park In The Prairie (Click Here)
The Firemen's Park In The Prairie Organization has almost finished the new park for kids in Sun Prairie. Click here for more info and lots of pictures of the Firemen's Park In The Prairie. Please be patient because the images are quite large but are much nicer to look at.
---
Get a FREE downloadable Grocery List for Copps in Sun Prairie. Click here.
Speed up your grocery shopping by knowing where everything is at on this simple grocery list. Just circle the items you need and then pick them up as you go down the rows. Don't waste your time wandering around trying to find things.
---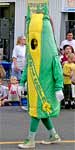 Sun Prairie Sweet Corn Festival Parade (Click Here)
The Sun Prairie Sweet Corn Festival Parade took place on August 16th, 2007. The parade started at 6 PM and took about one and 1/2 hours to complete. Throughout the parade, the children spectators were treated to many opportunities for free candy handouts from businesses that had "floats" or cars or trucks in the parade. Click for more info and pictures from the Sweet Corn Festival Parade.

---
Sample Sun Prairie, Cannery Square (Click Here)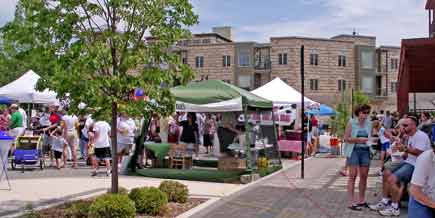 There was a fundraiser today, July 28th, 2007, to raise money for firemen's Park in Sun Prairie. The event took place in Cannery Square located in downtown Sun Prairie. Click here for more info on the Sample Sun Prairie fundraiser. Sample Sun Prairie coincided, this year, with the Sun Prairie Maxwell Street Days on Saturday.
---
35th Annual Flags of Freedom Parade (Click Here)
The 35th annual "Flags of Freedom Parade" which was hosted today, June 30th, 2007, by the "Sound of Sun Prairie," began at 2 p.m.and ran from the corner of Ruby Lane and Main Street to Market Street. It was a beautiful day for a parade. Sunny, with temperature of about 76 degrees.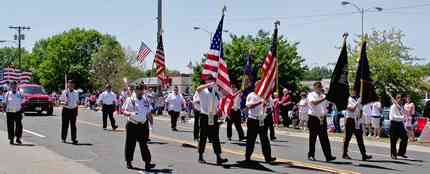 The Flags of Freedom Parade was led off with the VFW as the color guard. Click here for more info on the Sun Prairie Flags of Freedom Parade.
---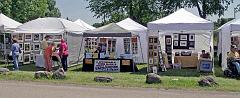 Annual Taste Of The Arts Festival in Sun Prairie (Click Here)
The 26th Annual Sun Prairie Taste of the Arts Fair was held Saturday, June 9th, 2007 at Sheehan Park, Sun Prairie.
---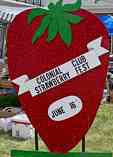 20th Annual Sun Prairie Strawberry Fest (Click Here)
The 20th annual Sun Prairie Strawberry Fest was held today, June 16th, 2007, at the Colonial Club Senior Activity Center. It was a beautiful, sunny, hot day with temperatures into the upper eighties.
---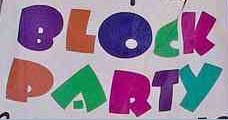 Cannery Square Block Party (Click Here)
In conjunction with the Sun Prairie Strawberry Fest, the Cannery Square Block Party takes place just a few short blocks away. Both of these events are open to the public and free to get in.
---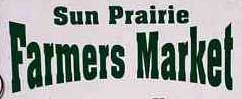 Sun Prairie Farmer's Market (Click Here)
The market offers farm fresh produce, poultry (chicken) duck goose, lamb, jams, jellies,preserves and a whole lot more! From the freshest of fruits and vegetables, handcrafted soaps to garden art, Sun Prairie has it all.
---
August 9th, 2007
The present site of Pathway Community Church will be the location of a brand new Emergency Medical Facility. SSM Health Care of Wisconsin and the city of Sun Prairie reached an agreement to build the new medical facility which is just South of the Sun Prairie subdivision of Smith's Crossing.
The options for emergency care in the Sun Prairie area have been a 26 minute trip to Columbus or an ambulance trip to downtown Madison which would take about 23 minutes or more with sirens on.
Sponsored by the Franciscan Sisters of Mary and based in St. Louis, Mo., SSM Health Care (SSMHC) is one of the largest Catholic systems in the country. The system owns, manages and is affiliated with 20 acute care hospitals and two nursing homes in four states: Missouri, Illinois, Wisconsin and Oklahoma. SSM owns St. Mary's Hospital in Madison, Wisconsin.
Providing emergency services will be Madison Emergency Physicians, whose 23 emergency doctors work in emergency rooms at St. Mary's Hospital in Madison and Upland Hills Health in Dodgeville. Madison Emergency Physicians will also begin covering Columbus Community Hospital in July of 2008.
---
The city of Sun Prairie Wisconsin is located in Dane County and is a suburb of Madison Wisconsin. The 2000 census put the city's population at 20,369. Sun Prairie is the 5th fastest growing city in Wisconsin. It is expected to double in population by the year 2020. We are located just east of Madison on Highway 151. The highway has recently been expanded to three lanes starting from I-94 and going all the way to Main Street in Sun Prairie. The city is preparing for the big expansion in population by expanding the city to the West, past Highway 151 and to Highway "C". Highway C has also been expanded and it runs four lanes from Highway 19 and right up until it intersects with Highway 151, South of Hoepker Road. There is a building boom going on in this new area with a brand new Copps Food Store at the corner of Hwy 19 and Hwy C. Walgreens is also building a new store on this corner.
---
Sun Prairie History:
In 1837 a group of forty five men were commissioned by President Van Buren to go to Madison to build a territory capitol. They left Milwaukee and arrived fourteen days later on June 9th, 1837. Because they had spent many days of their travel in the rain, when the arrived at the edge of the prairie with the sun shinning, they carved the name "Sun Prairie" into a tree. One of the men that was amount the party was August Bird. Charles Bird came to "Sun Prairie" two years later and was the first settler in the area. Today, one of Sun Prairie's main streets is "Bird Street."
Georgia O'Keeffe, the famous artist (1887-1986 ), was born on a dairy farm in Sun Prairie Wisconsin and is probably the most famous person from the area. There is a Georgia O'Keeffe celebration every year and there is a street named after her.
Sun Prairie is flanked by Windsor on the West and Marshall to the East. In fact, Highway 19, which goes towards Windsor is called Windsor Street in Sun Prairie.
---
Sun Prairie City Council and Plan Commission Meetings on Live TV on Channel 12 on Charter Cable and they also repeat. Live meetings start at 7pm.
City Council Meetings air the 1st & 3rd Tuesday of the month.
Plan Commission Meetings air 2nd and 4th Tuesdays of the month.
School Board meetings air the 2nd & 4th Monday of the month.
All of these meeting are re-aired on Friday, Saturday and Sunday of each week. School Board Finance Committee Meetings and Special School Board Meetings are also aired on KSUN-12 check our schedule for airing times.
Sun Prairie High School also has sports broadcast on channel 12.
If you are unfortunate enough to live close to the City of Madison but still in Sun Prairie, ignore this section because all you will get to see is Madison meetings, sports and productions. Thank you for nothing, Charter Cable.
---
Madison's Overture Center For the Arts 2008 / 2009 Season Calendar:Lucia Di Lammermoor, Martin Short, Gruffalo, Capitol Steps, Church Basement Ladies, David Sedaris, Ricky Skaggs, Bruce Hornsby, Sally Mayes, Bobby McFerrin, The Neville Brothers, Assad Brothers, Jesus Christ Superstar, Peking Acrobats, Kodo Drummers, Pirates of Penzance, Art Garfunkel and many more!